John is in Amsterdam with a group of unofficial hunters to find out just why it is that a group of skinheads does nightly battle with the vampires. Exhausted, John returns to his hotel room only to have the strangest dream about being in a grimy club and meeting a woman who intrigues and excites him. For her part, Eva has always been in love with John. As a friend of her parents, she grew up around him and he has always been her secret crush. When Eva sees him in a club looking so much younger than she is used to seeing him, she cannot resist the opportunity to flirt with him. With all of the tension and power struggles in the vampire world, a relationship between John, a hunter and Eva the only vampire/human in existence, is a difficult if not impossible thing and when you toss in time travel, this relationship may just be more than either of them can handle.

From the moment of her birth, Eva was prophesied to be the savior in that she would bring vampires and humans together and usher in an end to the violence. That's a lot of pressure to put on a child and Eva feels the weight of it, causing her to participate in petty rebellions. While she loves her parents, there are times when she resents her vampire father and even revels in defying his authority. Though Eva is twenty-one, by the end of Blood Hungry, she seems so much younger than that, almost like a girl playing dress up. Yes, she's a fierce warrior but she recklessly enters situations in which she is outnumbered.

Then we have John. He's all too familiar with baby Eva because she's the daughter of Elizabeth and Saloman the ancient vampire. On the day of her birth, John selflessly risked his life to save hers. When he time travels to the future and finds himself attracted to a dark haired beauty, he simply cannot resist. Thoughts of her invade his every waking thought. Eva however has the advantage of knowing right away who John is, having grown up around him. When John learns that the woman he has come to care for in the future, is the child he is sworn to protect in the present, he's not quite sure how to handle it. In the meantime, 40 year old John, (the John of the future) has his doubts about young Eva loving him as he is now and not the young John she fell in love with. Yes, it's as jumbled and confused as it sounds.

We have to pause here for a moment. John is absolutely not attracted to baby Eva and does his best to avoid contact with her; however, from Eva's memories it's clear that he interacted with her a lot as a child, while in full awareness that he was engaging in an affair with an older version of her. Treanor justifies this relationship using time travel as a device but it still feels far too much like grooming to me.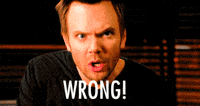 It feels very much as though John took advantage of Eva, despite Eva's clear independence. All along the way his close relationship with her and her parents allowed him to spend time grooming her to be the woman he would one day take as a lover and partner. It's telling that he only chose to pull away when he worried about her rejection of him because of his age, rather than conscious thought about how the age difference between them gave him all of the power in that relationship. It's for this reason that I could not in any way invest in the romance between John and Eva and without that, there's nothing left to the book.